These Educators and Activists Can Help You Navigate Intimacy Now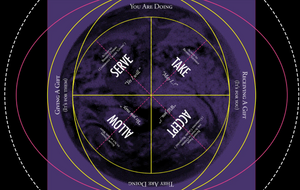 Setting Boundaries at the Store
This year, physical distance and safety became part of a suddenly urgent conversation for everyone. But for educators focused on intimacy and consent, questions about bodies and boundaries are a constant focus. Here's how a number of experts are teaching people how to treat themselves and others well — and where they can teach you.
Nenna Joiner, who runs the Feelmore sex shops in Oakland and Berkeley, Calif., kept their stores open throughout the pandemic.
In the store, Mx. Joiner, who uses non-gendered pronouns, tries to show customers how to mindfully ask intimate questions and assert the boundaries of their comfort zones.
"The 'no' is powerful in the workplace, where there's no sex happening," Mx. Joiner said. "It's powerful in relationships, and it's also empowering in general. There's always room for it."
"We make sure we're talking about exactly what the customer wants, regardless of what our personal beliefs are," Mx. Joiner said. "The benefit of owning, operating and working at a sex shop is that you are really there for the needs of the community."
Pleasure activists, and Mx. Joiner is one, believe that personal pleasure is important politically and that healthy sexuality gives strength and power to people — particularly those who've been ignored in these conversations.
"If you read a lot of the sex books that have been written out there, most of them were definitely not written with women of color in mind," Mx. Joiner said. "When you're thinking about pleasure, or you're thinking about activism, you're thinking last about brown women."