How to Run a Sex Shop During a Pandemic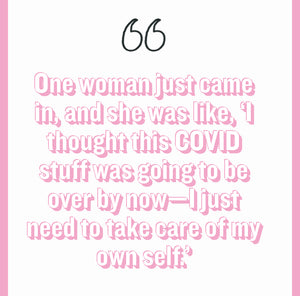 You have a bird's-eye view of sexuality in your community. How's everybody doing?
It's hard. But the fun part is we're all there. Everybody's having an issue with jobs.
Are you getting many first-time clients?
We're seeing more women and men saying, "Hey, I haven't done this before"—for example, full-on masturbation with a Unit [sex toy]. Maybe they've done it with their hand, but not with a Unit. We tell them, "Hey, it's cool, it's chill. Don't worry about it. You're doing a good thing." You know what I mean? You're doing a service for yourself.
One woman just came in, and she was like, 'I thought this COVID stuff was going to be over by now—I just need to take care of my own self.'