Feelmore Adult opens 2nd location in Downtown Berkeley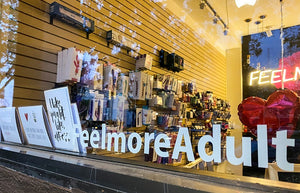 Feelmore Adult, or Feelmore, an adult entertainment store and sex shop, opened a Berkeley location Jan. 2 on Shattuck Avenue.
Feelmore's Berkeley location is smaller compared to its other location in Oakland, according to store owner Nenna Joiner. Joiner outlined their goals for Feelmore, including the promotion of sexual health and positivity to high school students and the community at large.
"It is insane, the opportunity we have to sell vibrators, but also the opportunity that we have to contribute to positive sexual expression," Joiner said.
Feelmore offers a wide variety of sex toys and products. While Feelmore will not be stocking lingerie, the store has anal plugs, vibrators, dildos, condoms and lubricants, among other products.
For a longer read, check the article here